Training a cat – It is a commonly held belief that, 'You can't train a cat!' Dr Kersti Seksel does not agree.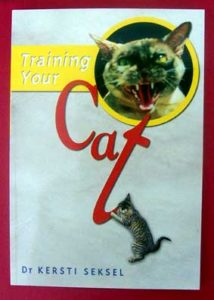 Sadly too many kittens and cats are surrendered and then euthanased at the pound due to behavioural reasons.   Training a cat to have good manners and prevent behavioural problems is critical to living happily together with our pet for up to around 20 years.
Dr Kersti Seksel is a veterinary surgeon specialising in animal behaviour at Sydney Animal Behaviour Service (SABS).  Dr Kersti is the author 'Training Your Cat', a book she wrote in 2001, and it remains an excellent resource for all cat owners today.  It is a delightful book that shows you how you can get your cat to come when called, sit when asked, walk safely on a lead or harness, stop scratching or biting, toilet in the right place and refrain from wanton attacks on your furniture – and much more.  Dr Kersti's methods are fun, using rewards based methods not physical punishment.
I have learned a lot from reading this comprehensive publication, it's covers much more than how to train your cat.  It's full of information from how to pick the right cat for you to to moving house with your cat.  The training tips are applicable to both kittens and cats.  Topics covered:
How to pick the right cat for you
Raising good cats
Socialisation with other household members
Desexing
Vaccination
Worming
Development periods of cats
Feline behaviour
How cats learn
Training including using the litter tray
Elimination problems
Feline aggression
Managing instinctual behaviour
Moving house with your cat
Dr Kersti says that we do need to select the right pet in the first place, one that suits us and our lifestyle.  We need to spend much more time deciding whether we really should be pet parents and then have realistic expectations of our pets: cats are not small dogs and they are not maintenance free!  Then we need to start training this pet with good manners the moment we bring it into our family if we are to live in harmony for many years to come.
A final thought about training a cat – Prevention is better than cure, so we need to start young animals off on the right paw!
END
Cathy Beer
Founder, Pets4Life