Have you started your Christmas shopping?  Here are our picks for great cat Christmas gifts your feline friend will love.
Cat Christmas gift – Ripple Rug
Keep your cat entertained with the Ripple rug.  This is a great 'cat activity mat' with endless possibilities for entertaining your cat.  It has different sized holes that become lookouts for 'prey'.
Your furry friend will be able to scratch, pull and play.
Found at ripplerug.com
Cat Christmas gift – wall hanging cat scratcher
This easy-mount scratcher is infused with catnip to instantly attract your cat! It takes seconds to put up and leaves your wall clean and undamaged when you take it off – no tools required.
Featuring a natural sisal scratch pad and colourful print on beautiful and sustainable plywood. Kiss that old scratching post goodbye! – Sprayed with catnip to attract your cat – Sturdy design for strong claws.
Check out the different designs.  More about the wall hanging cat scratcher at Fur Legged Family.
Cat Christmas gift – Homemade catnip toys just $3 each
Handmade fabric catnip toys!!!! These toys make a great treat or gift for cats. They can be purchased individually or as a set of four. Full Catnip Toy Details: * Made from coordinating fabrics on the exterior * Catnip mixed with poly-fill interior * Each toy has small bells on the inside * Each toy contains a generous amount of catnip *
Each toy is finished off with a coordinating feather tail * These toys are handmade using fabric scraps so color, size, and shape may vary slightly.
More about the catnip toys at Fur Legged Family.
Cat Christmas gift – tail catchers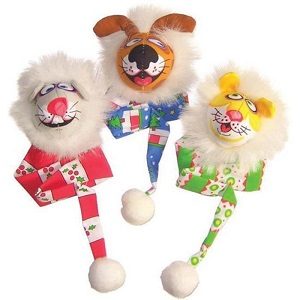 Spread the Christmas spirit with these catnip toys, designed for chasing from the Cat Protection Society NSW (2018 Community Education & Outreach award winner in the Jetpets Companion Animal Rescue Awards).
More about the Christmas tail catchers at Cat Protection Society NSW.