Don't forget your canine friend this Christmas.  Here are our picks for great dog Christmas gifts to keep them happily occupied, stay cool and looking glamorous over the summer holidays. Seasons' Greetings!
Dog Christmas gifts – Aussie Dog Monster Treat Ball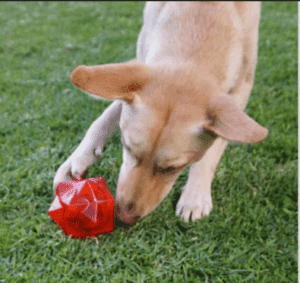 Our friends at Aussie Dog have the new Red Monster is super tough treat release dog toy for the EXTREME chewer. It makes no noise, is kind to dog's teeth and with its super irregular bounce it is sure to keep your dog fit and active. Reward healthy play by filling the eye-catching ball with tasty treats, it's a great way to treat your dog and keep them active at the same time.
What's more, the eye hole glows in the dark for night time fun and it floats on water.
More about the Aussie Dog Monster Treat Ball.
Dog Christmas gifts – All For Paws Chill Out Garden Water Fountain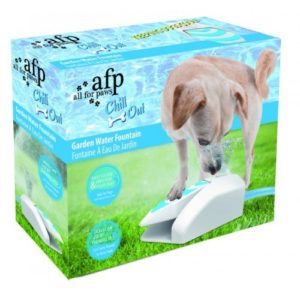 The garden fountain can be used anywhere by just plug it to any garden hose. Your dog will, therefore, have access to fresh flowing water just by pushing with its paw. Ideal for the summer season or when your dog is left alone in the garden.  Features: • Freshwater available at the push of the paw • Rubber on the lever so the paw doesn't slide • Wide lever so it is suitable to all sizes dogs, and easy-push, no need much strength to make the water flow. • Universal plug.
More about this Garden Water Fountain found at Fur Legged Family.
Dog Christmas gifts – Cooling Mat Bags with your dog's breed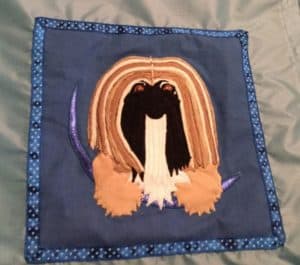 Made from Ripstop nylon these bags are perfect for keeping your pooch nice and cool in the heat. Size is 36 x 34cm with magnetic closures. Your dog will remain dry but cool!
This one is a Lhasa Apso but you can order any breed you like. These bags normally retail for $35 but this one has been reduced to $25.00!!
More about the Cooling Mat Bags.
Dog Christmas gifts – Gold Collar with Gold Bow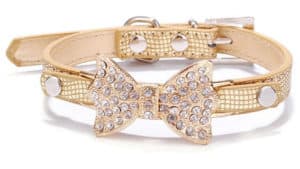 Check out this very glamorous dog collar.  Love the bling! The product description found on Fur Legged Family says 'Metallic PGold Collar with bling Gold Bow.
Available in 3 sizes.
More about the Gold Collar with Gold Bow.
Dog Christmas gifts – snuffle box
This is one of our all-time favourite ways to keep your dog occupied and not annoying your party guests! Check out this short video by Sydney based positive dog trainer, Louise Newman at Let's Go Fido on how to make your very own snuffle box in a few easy steps.  Not only do you entertain your dog while he hunts for treats in the box, you also recycle your rubbish. And this fun game costs nothing (except for the tasty treats).