A popular brand of cat food has been stripped from shelves after claims it has killed some family pets and made others critically ill reported by Yahoo 7 News on 8th May 2017.
Cat lovers were sent into a panic last on Sunday night after social media reports across the country claimed the Best Feline Friend (BFF) pet food was making their kittens incredibly sick.
Some say their felines have even died after consuming the gourmet cat food, purchased at pet store Petbarn.
The manufacturer didn't confirm whether cats have died after consuming the food, which was produced exclusive for the Australian market, but said the BFF range has been removed from shelves as a precaution.
Seven News met with 15 month-old kitten Luna, who her owner says has eaten the food her whole life and is gravely ill.
Adrian Broome said he has already spent about $3000 on vet bills for Luna so far, but vets are not able to determine what's making her so sick.
"She has been very crook, vomiting, lethargic, hardly moving around, struggling to jump up on the couch even," Mr Broome said.
Luna was rushed to the Lort Smith animal hospital last night for further treatment.
The BFF range is made in the US and distributed through Petbarn outlets across the country but has since been pulled from the shelves.
The pet food and accessory chain have asked customers to return the product to the store for a full refund.
While tests are underway, with results not expected until next week, owners have been warned against feeding their pets the product under any circumstances.
David Forman, president and co-founder of BFF's parent company Weruva said in a statement the concerns were met with the "fullest attention".
"We have recently been made aware of select Best Feline Friend (BFF) canned foods, exclusive to the Australian market, which may have been produced outside of intended formulation guidelines.
"Out of an abundance of caution, and in partnership with our exclusive retailer of these goods, Petbarn and City Farmers have removed all BFF items from shelves in Australia until our analysis is complete," Mr Forman said.
He said the company was taking additional steps to ensure quality and confidence across its entire global food assortment by "aggressive testing" and quality assurance measures.
Latest update on Pet Barn Facebook page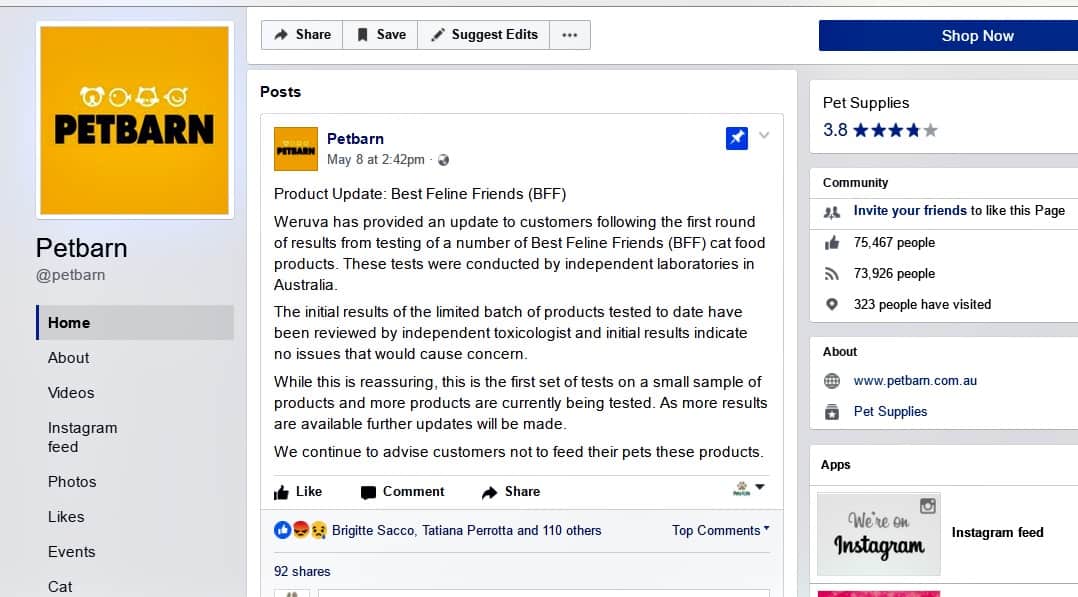 Customers with concerns should contact Weruva on 1800 338 359 between 9am-7pm AEST or email [email protected]