New War Animals Memorial unveiled
On the 11th of September every year, a service takes place in the small town of Fréthun (on the outskirts of Calais, France) to commemorate all those who have served under the NATO flag.  Whilst not strictly part of NATO, Australia has been in dialogue/co-operation with NATO since 2005.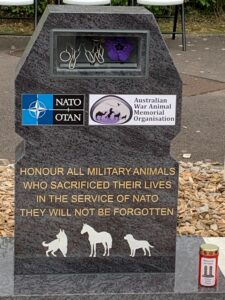 The Australian War Animal Memorial Organisation Inc (AWAMO), being recognised as a leading body in the war animals memorial space, was approached by the president of the "NATO – OTAN Mémorial Fréthun" about erecting a war animas memorial.  
The memorial has a clear "time capsule" built into it, containing some significant items, including a bit from a Light Horse, a chain from a Military Working Dog, and a purple poppy handmade by an anonymous Australian school child. 
The wreath that was laid at the base of the war animals memorial is one of a brand new range available in AWAMO's  Purple Poppies store.  There are purple, red, or dual purple and red wreaths available. They are made of wire, fabric, and ribbon and so are much more durable and long-lasting than traditional fresh wreaths.
SUPPORT WAR ANIMALS
If you would like a wreath or a purple poppy for Remembrance Day or next year's Anzac Day, we suggest snapping one up quickly as these are bound to sell fast.  You and support AWAMO and war animals by visiting their Purple Poppies store and buying a purple poppy.