Their blood stained the land, as they served with pride. A duty to their master, they stood side by side. From the sky, to the sea, through a vast open land, together they fought—both animal and man.
They flew through the sky, as messengers on wing dodging bombs and bullets, for salvation to bring. Their wings did strain, till their hearts near burst, they flew day and night, never fearing the worst.
They walked together midst a bomb spangled field, both dog and handler, neither one would yield. The bond and the friendships they shared through war, will live and be remembered for ever more.
Through the sand so fine, they lolloped to the fore they're the ships of the desert, the Camel Corp. Over hills and through valleys, the line did twine as they carried their loads to the firing line.
Into combat they rode, both man and steed, through the fear of battle, they were a special breed. The mateship of horse and rider was strong made the parting in death, seem so heartless and wrong.
As beasts of burden, they were put to the test, with hearts filled with anguish, they gave their best. They died where they fell, while the others pulled on.
Are they lost in life's story, can we still hear their song? The theatre of war—hell for animal and man whatever the cost, they cannot understand.
So remember them kindly, as you walk through life, for they too served proudly, to help make things right.
About Santina Lizzio
Santina Lizzio lives in a little township known as Mena Creek, located approximately two hours south of Cairns in North Queensland. She has been employed for the past twenty-eight years as a school officer at St Rita's Primary School in South Johnstone. She enjoys writing and has successfully published five historical books featuring the local area, two poetry books, two reflective verse books and two children's books. She also enjoys gardening, antique furniture, collectables and bush-walking.
Santina's poem, "I am a War Dog" won favour with the Australian Defence Force Trackers and War Dogs Association when it was read for the first time in 2009 when medals were posthumously awarded to the eleven dogs who served in Vietnam. Santina penned a poem dedicated to the animals that served on the Western Front. This was used as part of a ceremony held at Pozieres in France in 2017.  She is extremely passionate about the subject of animal welfare, especially those that serve unconditionally and give their lives in service.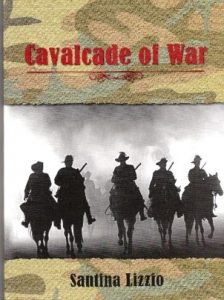 Santina Lizzio's book CAVALCADE OF WAR RRP $35 is designed as a 160 page coffee table book. It is a collection of stories and poems depicting different facets of war and those affected. It features Australians who selflessly gave or were personally touched by war. It honours those who sacrificed their lives directly or indirectly to protect our shores.  It also honours the many animals that have served in wars throughout history.  You can contact Santina Lizzio via the Australian War Animals Memorials organisaton to purchase a copy.
PURPLE POPPY FOR ANIMALS OF WAR
Did you know 9 million four-legged and winged animals lost their lives in WWI?  You can wear a purple poppy on its own or alongside a red poppy to commemorate animals of war who have sacrificed their lives past and present.
Buy a purple poppy and support charity, the Australian War Animal Memorials Organisation.