Face of Pets4Life 2016 Competition
This competition is now closed. Congratulations to our dog winner, Noah and our cat winner, Milo! 
Entry is easy!
Step 1: Fill in the form and submit a photo of your cat or dog in the entry form below for the Face of Pets4Life 2016 competition from 21st November to 4th December.
Step 2: Get your friends and family to vote for your photo from Monday, 5th December to Sunday, 11th December 2016.
Thanks to new online shop Fur Legged Family, the Face of Pets4Life 2016 cat and dog winners will each receive a custom colour pencil pet portrait A4 size by artist Joanne Pearcy.  
I have a passion for the protection of animals and the conservation of Australia's wildlife and environment and hope that my art can bring a bit of awareness to these areas. Joanne Pearcy
About Fur Legged Family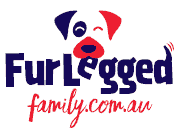 Fur Legged Family is an online marketplace specialising in unique, creative & often handmade products and services for pets. The primary goal of the website is to increase community awareness of the benefits of adoption and to channel profits to the rescue centres and volunteers that do so much great work. At least 20% of all profits are donated to animal rescue organisations.
Competition details
Entries have closed.  Voting is now open from 5th until Sunday 11th December 2016 at midnight (AEDT).  Vote for your favourite cat or dog via Pets4Life Facebook photo album. 
The winners will be notified and their winning photo will be on the cover of the Pets4Life Facebook page.  Full Terms and Conditions.