30 Dog friendly beaches across Australia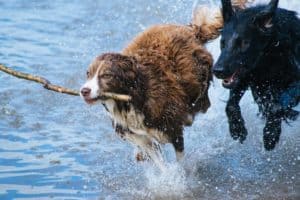 Summer is here!  The temperature's rising, dogs are panting and the beach holiday is beckoning.  So, where can we take our dogs to a beach to stretch their legs and splash around in the cool water?
Dog lover, Kevin Crawshaw has done the hard work for us and put together a list of 30 popular beaches for dog owners in Australia.
Check out some great dog friendly beaches in your state or territory.  
Dog friendly beaches in Queensland
On the Gold Coast you can walk your dog on most beaches on a leash but you can also go to one of the following three beaches covering over three kilometres of off-leash stretches of golden sand:
Dog friendly beaches in New South Wales
In 2010, Wollongong Council put in place a Dogs on Beaches and Parks policy where they have put together coloured zones that indicate the type of access from off-leash at all hours, to limited off-leash  hours and then onto totally prohibited. This website will show you those beaches, from total access at Little Austinmer to limited hours access at Sandon Point, across this beautiful coastline that offer the best places to take your dog – http://www.wollongong.nsw.gov.au/services/household/pets/Pages/DogsonBeaches.aspx
Kiama provides a very useful downloadable leaflet that outlines those beaches that can be accessed fully off-leash as well as their particular rules. Beaches from Bombo to Jones Beach provide this freedom for dogs and their owners and the link to this brochure can be found on this page – http://www.kiama.nsw.gov.au/residents/pets—other-animals/off-leash-areas
Sydney – According to Great Dog Walks, there is only one dog-friendly ocean beach in Sydney – Greenhills Beach north of  Wanda Beach near Cronulla.  But don't give up hope as there are also other dog-friendly harbour beaches, bays and lagoons where you and your dog can enjoy mucking about in the water. More details at http://www.greatdogwalks.com.au/sydney-dog-friendly-beaches.aspx
Dog friendly beaches in Victoria
Melbourne has it's glorious Port Phillip Bay and fortunately the authorities are keen to promote all forms of dog exercise and provide a very useful downloadable map showing where a dog can be taken and any restrictions that may apply. This map can be found on this website – http://www.portphillip.vic.gov.au/dogs_on_beaches.htm
Along the Surf Coast and including small towns such as Lorne and Anglesea, you find some a number of areas that carry some restrictions but, fortunately for such a popular part of the Victorian coast, most areas provide some very decent off-leash areas for dogs and you can download a map and brochure from this website – http://www.surfcoast.vic.gov.au/My_Community/Pets_Animals/Dogs_On_Leash_Controls
Warrnambool is a popular coastal town that benefits from its close proximity to the Great Ocean Road. Many visitors come for the fishing as well as the very popular Whale spotting from Logans Beach – fortunately, this beach also provides off-leash dog walking. Details of this area and other on and off-leash zones can be found on this website – https://www.warrnambool.vic.gov.au/walking-your-dog
Dog friendly beaches in Tasmania
It is somewhat surprising that Tasmania, with its bountiful and beautiful National Parks, could provide so many opportunities, outside of these Parks, that give your dog the chance to run free. The attached website provides you with a list of many such areas where dogs have such freedom. Of course, please check out the details of the area that you wish to visit. The extremely helpful website is http://www.parks.tas.gov.au/?base=494
Dog friendly beaches in South Australia
The seaport town of Port Augusta has wide estuary bays and beaches with most allowing access for dogs, although some with time-sharing restrictions. More details can be found with a link to a document from this website – http://www.portaugusta.sa.gov.au/dogs
Dog friendly beaches in Western Australia
Over 700 miles to the east of Perth, you will find the Goldfields coastal town of Esperance where there is a positive approach to dog ownership with dog friendly access to the towns beaches with some time-sharing restrictions. Details can be found on the towns website – http://www.esperance.wa.gov.au/animal-exercise-areas#accordion-0-0
A couple of hundred kilometres closer to Perth, there is the sea town of Bremers Bay, situated on the mouth of the Bremer River. It is known that the beaches here are classified as dog friendly, although the councils website doesn't clarify the areas or any restrictions. Council contact details can be found on their website – http://www.jerramungup.wa.gov.au/tourism/bremer-bay/
On the south west corner of Western Australia, there are glorious landscapes and beaches to explore and, luckily, the local communities and the Shire of Bussleton, are keen to promote dog exercise areas across the region. A list and a useful map can be found on this webpage – http://www.dogfriendlywa.com/beaches–parks.html
Dog friendly beaches in Northern Territory
There are a number of beaches around Darwin but not many allow freedom of dog movement. One that does allow very decent dog (and horse!) exercise is Casuarina Beach. Like all open areas in the Northern Territory, it is important to check the local conditions and obtain current advice from government websites etc. Details of Casuarina Beach can be found here – http://www.enjoy-darwin.com/casuarina-beach.html