Bow Wow Meow response to Choice pet insurance Media Release (April 2016)
Australian consumer advocacy group, Choice, says health insurance for pets is still a relatively new product. In Australia, there are only two providers of pet insurance – Petplan and PetSure, underwritten by Allianz Australia and Hollard respectively.  Choice conducted a review of 68 policies from 19 brands of pet insurance and announced their findings in a media release in April 2016.
Our guest post is pet insurance provider, Bow Wow Meow. They give their response to Choice's recent pet insurance review.  Be sure to check out below Bow Wow Meow's special pet insurance offer! 
Bow Wow meow response to Choice pet insurance review
At Bow Wow Meow we are proud to be independently rated the Number 1 Pet Insurer in Australia (on consumer site, productreview.com.au*, current as at 30/05/2016). We believe this is because of the outstanding service that we give our customers and the real financial support that we provide to thousands of Australian pet owners each year.
Our policies cover a multitude of conditions – in fact, Bow Wow Meow has paid out over 40,000 claims in the last year (from 1 April 2015 to 1 April 2016) for many conditions relating to Accidental Injury, Emergency Boarding, Routine Care and many others. Of course, like all insurance products, our insurance comes with certain exclusions. These are necessary to keep pet insurance affordable for the average pet owner and are clearly outlined in our Product Disclosure Statement.
Vaccination clause
Following Choice's media release of April 2016, we would like to address the vaccination clause in Petsure administered policies (of which we are one) that was highlighted:
We will not pay treatment of the following irrespective of whether your dog or cat was vaccinated or not:
a) for dogs: infectious canine hepatitis (canine adenovirus), parvovirus, canine distemper, parainfluenza and all forms of kennel cough. b) for cats: panleukopaenia, chlamydia, leukaemia, FIV, Feline Infectious Peritonitis, viral rhinotracheitis, calicivirus, herpes, cat flu"2.
 Firstly, it is important to note that, if a pet has received the correct vaccinations when due, and the vaccinations are administered correctly, the pet will be unlikely to suffer from any of the above conditions.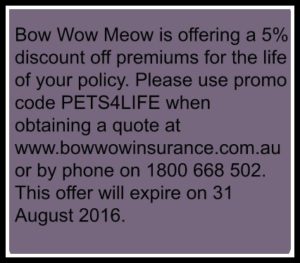 A complexity of extending coverage for vaccinated pets for the above conditions is that it would be extremely difficult for Pet Insurers to monitor if the vaccinations have actually been administered correctly, (which affects their efficacy).  This is one of the reasons that our policies treat these conditions the same regardless of whether the pet has been vaccinated or not.
It is also worth noting that some vaccine manufacturers, may be happy to contribute funds towards the vet bill if the pet becomes ill after their vaccine has been administered.
Cost of policies
Although the most expensive premium quoted in the Choice article was over $2,000 per year[1], the majority of Bow Wow Meow policy holders pay around $530 per year or about $44 per month for their pet insurance policies. This is the average of the whole Bow Wow Meow book for all our policies. We believe our pricing offers great value for the peace of mind that comes with knowing major vet bills such as surgery, ongoing cancer or skin treatments, cruciate ligaments etc. are covered[2]. Here are some examples of actual claims we have paid out to policy holder in the last year:
| | |
| --- | --- |
| COMMON TREATMENTS | WE PAID |
| Leg Fracture | $6,080 |
| Bite Wound | $5,323 |
| Cruciate Ligament | $3,804 |
| Toe Fracture | $2,010 |
| Diarrhoea | $1,508 |
| Gastroenteritis | $1,474 |
 Figures taken from a sample of pet insurance claims reported for various conditions for Bow Wow Meow during this period. Amounts include GST, the cost of medicines, vet fees and other associated expenses.
Extra benefits
Bow Wow Meow plans also provide our policy holders with a range of additional benefits*, including:
A free pet ID tag when they sign up and each policy year if they change contact details;
Tick Paralysis benefit of up to $1000 per year (Comprehensive and Major Medical Plans only);
Emergency boarding fees if the pet owner is hospitalised;
Overseas pet travel insurance;
The ability to have cruciate ligament condition exclusions waived after 18 months of continuous cover.[3]
We are continuously looking to improve our claims processes and we currently pay 85% of claims within 5 working days following receipt of all requested documentation. We have recently introduced our new Pet Portal, which allows customers to submit claims quickly and easily online.
Most of all, our pet insurance provides pet owners with the security of knowing that they will never have to choose between money and the life of their pet.
[1] For the BUPA Ultimate plan for a Staffordshire Bull Terrier living in Darwin, $0 excess with all extras.
[2] As long as they are not pre-existing conditions
* Product review is a public forum presenting user opinions on selected products and businesses and as such the views expressed do not reflect the opinion of ProductReview.com.au.
[3] Provided your vet has verified that your pet has been free of any clinical signs or recurrence of the pre-existing condition.
*Terms, conditions, waiting periods and exclusions apply. Bow Wow Meow Pet Insurance is general insurance issued by the insurer, The Hollard Insurance Company Pty Ltd (ACN 090 584 473; AFSL 241436) (Hollard), is promoted by Pet Tag Holdings Pty Ltd ABN 76 124 601 127 who is an Authorised Representative of Hollard (AR No. 318913)) and administered by PetSure (Australia) Pty Ltd (ACN 075 949 923; AFSL 420183) (PetSure). This is general information only. Please consider the Product Disclosure Statement (PDS), available at www.bowwowinsurance.com.au, in deciding whether to acquire or continue to hold, Bow Wow Meow Pet Insurance.
-END-