This competition is now closed.  Congratulations to our 5 winners – Amanda MacLean, NSW; Wendy Gray, VIC; Priscella Rap, VIC; Sue Green S.A.; and Tracey Conry, NSW.
You can WIN one of 5 copies in our Travelling With Pets on Australia's East Coast book GIVEAWAY!
Travelling with your beloved dog, cat, bird or horse? Independently researched and collated, Travelling With Pets on Australia's East Coast 4th Edition explores the best pet-friendly accommodation (from 5-star hotels to campgrounds) between Melbourne and Cairns. We have 5 copies of Travelling With Pets on Australia's East Coast to giveaway ($29.99 RRP).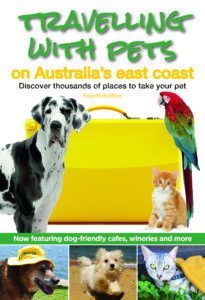 Every entry includes a brief, unbiased opinion plus details regarding price and which pets are welcome. Now also featuring dog-friendly cafes, pubs, and wineries, so you can enjoy family outings with your beloved furry friends. In the book are details regarding great dog-friendly beaches and parks to be found on the way.
Author Carla Francis of Pet-Friendly Accommodation is a freelance writer and a devoted pet owner who can't stand to leave her pet behind when she travels. From charming cat cabins to cute cockatiel-friendly caravan parks, she has left no stone unturned in her quest to provide a definitive guide to pet-friendly accommodation on Australias East Coast.
Carla interviewed Cathy Beer of Pets4Life to find out more about what we do and the Jetpets Companion Animal Rescue Awards 2019.
Travelling With Pets on Australia's East Coast is available in all good bookstores and online at Booktopia www.booktopia.com.au.
Find out how you can support the RSPCA Queensland.
Enter our book giveaway now
You can WIN one of 5 prizes.  Each prize is a copy of 'Travelling with Pets on Australia's East Coast' valued at $29.95 RRP.  This competition is exclusively for Australian residents 18 years and over who are current subscribers to our Bark n Purr newsletter.  Not a subscriber? No worries, you will automatically join the newsletter when you complete the entry form below.
The promotion starts at 12 pm Australian Eastern Daylight Time ("AEDT") Friday 22nd March 2019 and closes at midnight Australian Eastern Standard Time ("AEST") on Sunday, 7th April 2019.
Good luck and enjoy travelling with your pets!