This competition has closed. Congratulations to the winners!
You can WIN one of three copies of this fantastic new book, How to love and survive Your Teenage Dog valued at $29 RRP!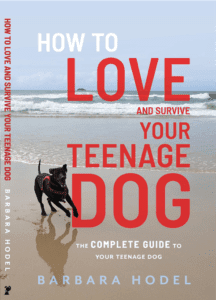 Like humans, all dogs go through a teenage phase. Their brain is wired for exploration and they are physically in their prime – with energy to spare.
In her new book How to Love and survive Your Teenage Dog, Delta Institute qualified dog trainer Barbara Hodel shows how you can successfully cope through this challenging life stage, improve your relationship with your teen dog, keep your sanity and even have some fun!
Barbara Hodel is the President of the Pet Professional Guild Australia, a professional member of the Delta Institute, and competes in the dog sport of Agility and Rally O. In her dog training business, Goodog Positive Dog Training, Barbara has helped thousands of teenage dogs and their humans over the last 13 years.
Find out more about Barbara's book and her top 'pawrenting' tips for teenage dogs.  You can simply enter our survive your teenage dog book giveaway below.
Main photo: Barbara Hodel with Shellbe and Chillax.
ENTER SURVIVE YOUR TEENAGE DOG BOOK GIVEAWAY
We have three prizes for the Pets4Life community! You can WIN one of three copies of this new book, How to Love and survive Your Teenage Dog.  This competition is exclusively for Australian residents 18 years and over who are current subscribers to our Bark n Purr newsletter.  Not a subscriber? No worries, you will automatically join the newsletter when you complete the entry form below.
The promotion starts at 12 pm Australian Eastern Standard Time ("AEST") Monday 24 August 2020 and closes at midnight AEST on Monday, 28 September 2020.