Entertaining the kids over the Christmas/New Year holidays can be stressful enough. But you won't have to worry about Fluffy with these great Christmas gift ideas for cats.
We've asked a few cat-loving experts for their ideas to keep cats entertained and happy over the holidays. Keep kitty purring with these great Christmas gift ideas for cats. There is something for every cat.
Don't forget Fido, check out our Christmas gift ideas for dogs.
Christmas gift ideas for cats
1. Snuffler
Snufflers are not just for dogs! Indoor cats will love hunting for treats hidden in their snuffler or they may even just enjoy sleeping on it.
Simply sprinkle food in the snuffler, hide it well and your cat will search for it. A snuffler can be taken on day excursions or holidays to keep your kitty relaxed and occupied.
Lara Kirschner from online shop, Fur Legged Family
2. Herb garden – a gift that keeps on giving (and growing!)
'A really cool idea for a kitty present to keep them happy and healthy over the holidays would be a herb garden for your cat!  Cats benefit from some greenery in their diet, and particularly for indoor kitties, this can be hard to provide. A herb garden for your cat could include catnip, cat-grass, basil or other non-toxic plants that your cat shows an affinity for. My kitten Buttons loves cat grass (or any plant she can get her paws on)! You can buy self-watering planters, potting mix and seeds from Bunnings or your local nursery'.
'It makes for a fun weekend project, but if you prefer to keep it simple, many vets or pet stores will carry Mr Fothergills cat grass or catnip starter kits which has literally everything you need to make up a treat for your cat!'
Veronica Morland, Sydney Cat Cafe 
3. iPad for cats
'We are so focused on technology and devices these days, that it seems only natural that we should introduce our cats to them too. Chances are your cat already interrupts your ipad viewing, so why not give them their own games to play (or really spoil them with their own tablet!). Games such as those from Friskies and many others can be downloaded from your app store, giving your cat many hours of fun chasing imaginary creatures on screen'.
Animal behaviourist Dr Joanne Righetti, Pet Problems Solved.
4.  Toy carrot filled with catnip
'Beyond a shadow of a doubt, the most popular cat toy we have at Cat Protection Society is the Cosmic Catnip Carrot! Its filled with dry Catnip and cats of all ages LOVE it.
Former Cat Protection resident, Locket, loved playing with it when he was about six months old but we also had a 12-year-old recently who loved her carrot toy so much she would hide it in her igloo bed at night and sleep on it! The cats chew on it and flick it around to chase it'.
Nerida Atkin, Cat Protection Society
5. Butterfly ball
Cats love to hunt and this butterfly ball will keep them on the move.
The ball creates a satisfying play with its sensor-activated action that sets the butterfly fluttering when swatted. It's exercise for your feline friend and great entertainment for you!
6. Rocking Feathers Cat Toy
This egg shape wobbling toy will entertain your cats with its rocking feathers for hours, all without batteries!   It works best on a hard surface
1) Turn the base clockwise (follow the arrow's direction) until you hear the "click click" sound.
2) Put the toy on floor, it will spin and wobble
7.  Pussweek magazine by cats for cats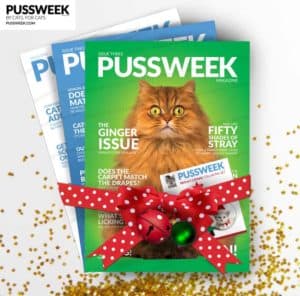 The purrfect gift for cats is the Pussweek Deluxe Meowy Catmas Pack! Pussweek is written by cats, for cats – NO HUMANS ALLOWED! The Meowy Catmas pack includes all three issues of Pussweek (including the rare and limited Issue One), and also comes with a bonus collar pin set for stylish cats to wear during the holidays.
The pack comes mewtifully wrapped and ready to give to the discerning feline in your life, and is available online here!
Bexy McFly, Editor in Chief, Pussweek.
8.  Da Bird Toy
Paper bags and scrunched afloat are always popular with cats.  The 'best toy ever', however, is Da Bird – quail feathers on a spinning line.  Cats will actually sit beside the toy or the cupboard it is in and ask for a game with you.
Companionship and activity – purrfect!'
Check it out http://www.dabird.com/da-bird.
Veterinarian Dr Kim Kendall, The Chatswood Cat Palace