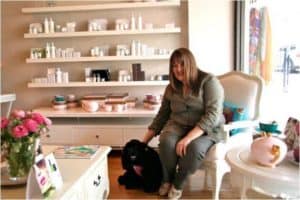 Kylie completed a Bachelor of Arts in modern languages at university after she finished school.  However, her career started well before university.  Kylie had a part time job in the beauty industry at 13 years of age as an Avon consultant.  This was the beginning of her passion for beauty.  She then worked on the counter for Ella Bache and Clarins.  Kylie was managing an Ella Bache day spa in Mosman when a client stole her away and introduced her to the corporate world.  She  worked as a senior executive for three different top 100 companies.   At this time Kylie was completing a MBA.
After 15 years in the corporate world, Kylie was ready for time out. She changed jobs to a small business in plastic surgery.  Kylie was also looking for a lifestyle outside of work.  She bought an apartment…enter Panda, an American Cocker Spaniel Poodle cross.  Kylie had always dreamt of having her own business but it wasn't until she worked at the plastic surgery that all her management and beauty experience came back to her and she remembered how much she loved it.
Since March 2012, Kylie has been the proud owner and manager of a very successful boutique day spa, Missy's Place located in Willoughby.   The business has always been focused on traditional pampering treatments and it is now slowly adding more medical grade treatments.  A special feature of Missy's Place is Panda where she meets and greets the clients and just looks adorable!

Print This Page