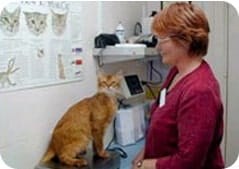 Dr Kim Kendall – Cat Veterinarian BVSc, MANZCVSc (cat medicine and animal behaviour)
Move over dog lovers, it is all about the feline species for Dr Kim.
Dr Kim graduated as a vet scientist from Sydney University last century. She travelled the world for many years until a passion for cat medicine took hold. After further studies in Cat Medicine, Kim established the East Chatswood Cat Clinic on Sydney's North Shore in 1994.
Now known as Dr Kim Kendall Cat Vet, her busy clinic treats around 30 cats every week.
To understand better about changes in cat behaviour, Kim undertook further study and gained Membership in Animal Behaviour in the ANZCVSc in 2004. She has since discovered that cats understand us better than we do them.
Kim is very proud of her purrsonal Adoption Centre which has found homes for 5000 cats and kittens!
Kim continues with the calm pursuit of excellence in Feline Medicine and Feline Health – mental and physical. She is mindful that we humans have changed the cats' environment, so Kim is working hard to improve the integration of cats into urban society. Kim is a voluntary member of Willoughby Council's Companion Animals Committee where she provides advice to the community about cat ownership and how to protect the native wildlife.
Kim says that her husband and their recycled Burmese cat called 'More' have to put up with a lot of nonsense from her sometimes, but from chaos comes order. More information about Dr Kim Kendall Cat Vet at www.catclinic.com.au

Print This Page