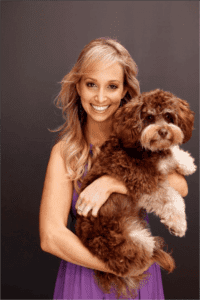 Dr. Lisa Chimes gets to combine her love of animals and her passion for television with her role as a vet with the 'smarts' on Channel Ten primetime program BondiVet. Her role with the much loved family program sees her in the trenches of Sydney's Small Animal Specialist Hospital 24 emergencyunit (SASH), where she works day in and day out, even when the cameras stop rolling, saving the lives of our furry family members.
BondiVet will continue to follow the very gracious yet ballsy Lisa and her SASH team on their life saving missions for a sixth season to air in 2014.
After graduating from Sydney University in 2006 with a Bachelor of Veterinary Science with first class honours, Lisa completed her internship in veterinary emergency and critical care in Melbourne.
It was during these years that Lisa discovered her passion for providing specialist and compassionate care for dogs and cats (all breeds and sizes!) so in 2008, Lisa moved back to her home suburb of Bondi and commenced work at SASH.
In 2010, Lisa obtained post-graduate qualifications by becoming a member of the Australian College of Veterinary Scientists in Small Animal Medicine.
Lisa is an ambassador for Purina, The Animal Welfare League and previously worked wth iAtopic Dermatitis Awarnessfor Dogs. She has made appearances on Ten's Ready Steady Cook, The Project, The Circle, Breakfast, Ten News, Nine's Mornings. Lisa is also a favourite on the pet expo circuit, sharing her knowledge and animal know how with public in her spare time.
Lisa resides in Sydney Eastern suburbs with husband Brad, son Hudson who turns one this year and her other babies, dogs Nelson and Lucas.

Print This Page