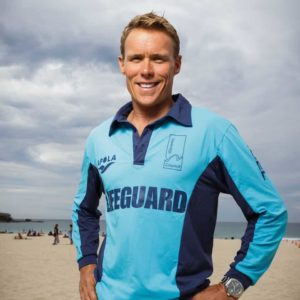 Born (1979) and bred in Bondi, home of Australia's most famous stretch of sand, Andrew 'Reidy' Reid is a lifeguard and TV personality, most well known for appearing on Channel 10's Logie award winning reality show, Bondi Rescue.
The programme, which has aired since 2006, follows the daily lives and routines of the Waverley Council professional lifeguards who patrol Bondi Beach. A ratings smash in Australia since 2006, Bondi Rescue has now been shown in over 190 countries worldwide, making household names of Reidy and his fellow lifeguards.
Find out who's the boss between Andrew 'Reidy' Reid and his dog Mugsy.
Early life:
Reidy attended Waverley College in Waverley. Having struggled with his weight as a teenager, he decided at 18 that he had to turn his life around. He changed his eating habits, started exercising, lost weight and became a lifeguard.
Work life:
Reidy is still currently working as a lifeguard on Bondi beach where they have recently finished filming season 9 of Bondi Rescue. He is one of the main players in developing the brand Bondi Lifeguards which sells merchandise and he has full control of the emergency training side of the business where they will be delivering CPR and first aid courses using their experience from real life events. In further self development he has begun training as a panel operator at 2GB in Sydney to complement his growing role as a sports commenter or emcee at events, predominantly triathlon and Ironman. Reidy is also an ambassador for Giant bicycles Australia and can be seen racing triathlons just as much as calling them.
He has also recently been appointed an ambassador for Ironman 70.3 Western Sydney in November 2014 where as well as promoting the race he will co-commentate the inaugural event along side Pete Murray (voice of Ironman Australia).
Personal life:
Being a fitness nut, Reidy counts cycling, running, swimming and open ocean stand-up paddling among his favorite ways to keep in shape. He loves to challenge himself and if that isn't enough he'll sign up to an Ironman triathlon.
In his spare time he can be found with a camera in his hand, and has had some of his work appear in various media outlets throughout Australia. Several of his photographs are on show at Frothers gallery in Bronte.
A supporter of various charities, Reidy is passionate about the work of the McGrath Foundation and WSPA, both of which he is an ambassador for and donates much of time to.

Print This Page