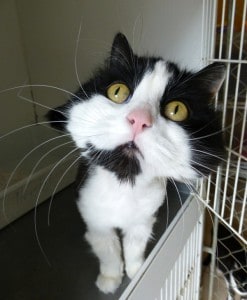 In this section, you'll find:
Questions to a ask shelter/rescue group about cat adoption
Adoption ready checklist
Shelters and rescue groups
Sadly, there is a constant stream of surrended and abandoned animals to shelters, pounds and rescue groups.  The RSPCA alone received nationally 131,522 animals in 2011- 2012.  During that year, 32.4% of dogs and 39.1% of cats were re-homed.  PetRescue has over 7500 pets listed for adoption on any one day.
Giving a pet a second chance can be one of life's most rewarding experiences.  There are animals of all ages, puppies and kittens as well as mature dogs and cats that are looking for their forever home. Fostering can be a great way to introduce a pet into your life.
Consider adopting two cats together that are known to get along because they will always have a play mate and never be lonely.
Questions to ask a shelter/rescue group
Before your heart melts at the sight of a adorable kitten or cat at the shelter, you need to think carefully about the kind of cat that will fit into your lifestyle for up to around 20 years.  Make an informed decision by asking the right questions:
What is the cat's history? It may be difficult to get this information but it is worth a try to find out why the cat was surrendered or abandoned.
How has the kitten or adult cat been socialised with other animals and people?
Is the cat comfortable with children and lots of activity or is it more suited to a quiet adult only household?
What is the personality like? When you meet the cat, does it approach you or is it fearful?*
What is the cat's temperament and energy level?
What are the physical and behavioural needs of this particular cat or breed?
Is the cat 'indoors -only?'
If you have a multi-pet household, how will the newcomer fit in?
Is the cat litter trained?
Is the cat suited to indoor living particularly over night?
Is the cat in good health?  What information is available about its medical history?
Is the cat de-sexed? If yes, when?
Has the animal shelter conducted a behavioural assessment
*See the cat on its own, and sit quietly until it relaxes.  Let it come an investigate you and see how it reacts to being touched.  You need to guage the difference between a cat being naturally cautious and timid or fearful of people.  More on cat personality from International Cat Care.
Your cat may have been living at the shelter for a long time.  Ask for advice on how to help your new cat adjust to their new home.
Adoption ready checklist
A re-homing organistation should offer a cat that is a good match with your household.  A cat ready for adoption should have the following completed:
health checked
vaccinated
de-sexed
microchipped
flea and worm treated
house trained
personality and energy level assessed
Shelters and rescue groups
The standard of animal care and knowledge varies across shelter/rescue groups.
The RSPCA Adopt a Pet and the Animal Welfare League are among the larger organisations located Australia wide that re-home companion animals.  The Cat Protection Society (CPS) located in Sydney also rehomes around 1,000 cats and kittens every year.  The Lost Dogs Home rescue and care for over 21,000 abandoned, injured and lost cats and dogs every year.  It has a Pet Licence Test for potential pet owners which involves reading the relevant Handbook and taking an online test of 25 questions.
PetRescue is a not for profit online service that finds new homes for lost and abandoned pets.  It has a searchable directory of rescue pets from around Australia.  PetRescue supports over 650 re-homing organisations of which 77% are rescue groups that run foster care networks.   This means that the majority of the pets listed for adoption are living in people's homes. The advantage to the adopter is that the personality of the pet are known.  For example, if a foster cat is happily living with kids and granny or  living with dogs, then the rescue organisation will know that these animals can be matched to that kind of household.
Resources
AWL NSW has five easy steps to adopt a cat
RSPCA Smart Kitten and Cat Buyer's Guide.