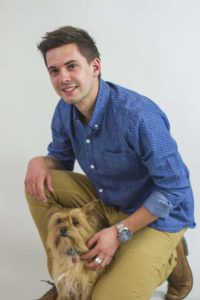 Jake Munday is a 24 year old entrepreneur, business sales executive and dog lover.  Born and bred in Geelong, Victoria, Jake graduated from Victoria University with a Diploma in Retail Management, and he has been very busy ever since. 
 Jake has a full time position at Connect Tel where he sells end to end solutions including mobile cloud technology, Office 365 and phone systems to a range of customers.  He is also the owner of the hugely popular Dog Lovers International Facebook page, which has 3.9 million followers! The Facebook page has a mix of cute and funny dog pictures and videos.  Having decided he wanted to start a business based on people's love of dogs, Jake acquired the Dog Lovers page when it had an already impressive 430,000 fans.  He then set about securing more fans for the Facebook page.  He attracted the next 2.5 million "likes" in the 12 months later.  Jake's internet business is based on a simple idea: people love dogs.   He turned the Dog Lovers Facebook page into an advertising vehicle.   Promoted products include doggles (goggles for dogs), booties to keep puppies' paws warm and dry, and dog-themed jewellery for owners.
In his spare time, Jake volunteers at Kardinia church with planning and running youth activities and social events for high school students, such as food fight nights, spot lighting, the amazing race, progressive dinners and gladiator wars.
Jake has recently moved into his own home. His dog, Dee Jay lives with his family.  When the time is right, Jake will be looking for his own furry companion unless he can steal Dee Jay away…