Be careful with dog bones!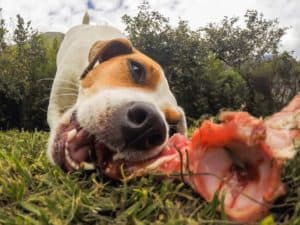 Domestic dogs are classified as omnivores as in the wild, they eat a variety of food. They hunt, generally small animals, and eat everything – muscle meat, bones, organs, other tissue and the digested vegetable material in the prey animal's gut.  They also eat animal faeces and other organic material they can find.
Are dog bones good for your dog? Dogs need to chew for their dental care and exercise their jaw muscles. Raw bones can be both safe and healthy but be careful!  We have listed the do's and don'ts of dog bones. 
There are edible bones and recreational bones.  Edible bones typically raw chicken wings, chicken and turkey necks provide calcium, phosphorus and trace minerals which can be an essential part of your pup's balanced raw food.  When your dog chews on a raw recreational bone, especially a meaty one with cartilage and soft tissue still attached, his teeth get the equivalent of a good brushing and flossing.
However, bones can cause serious health problems according to Dr Christine Hawke from the Australian Veterinary Association (AVA)'s dental health special interest group
'Although bones are a popular treat used by many pet owners for dental care, they can cause some serious problems for our furry friends,
Common oral problems caused by bones can include broken teeth, and injuries to the gums and tongue. They can also cause constipation, blockages and food poisoning.' she said.
Here are few dos and don'ts about dog bones
Do…
Use human-grade raw meaty bones such as raw lamb ribs (not lamb chops though), raw lamb flaps and raw chicken wings provide several important health benefits including keeping teeth and gums healthy
Ask your veterinarian which bones are suitable for your dog
Give only raw bones
Give a bone that is large enough so that the dog cannot fit the whole bone in its mouth or swallow the bone whole
Monitor the dog's behaviour when he is eating the bone, particularly if you have more than one dog, as bones are high value and a fight could develop.
Be careful to monitor children when the dog has a bone
Don't..
Feed bones to your dog often because bones can cause problems including constipation –  Generally 1-2 raw bones may be offered per week with a few days in between each serving
Feed dog bones that are too fatty
Feed pet meat, some pet mince/pet rolls/pet meat and bone products contain preservatives that can be detrimental to the dog's health – ask your veterinarian first
Feed cooked bones as these can splinter and cause internal damage or become an intestinal obstruction
Give large marrow bones (these have very thick outer rims), T-bones, 'chop' bones e.g. lamb cutlets, large knuckle bones and bones sawn lengthwise (as done by some butchers) as dogs may crack their teeth on these
Feed small bones that can be swallowed whole or pose a choking risk
Feed pork bones or rib bones, they're more likely to splinter than other types of bones.
Seek advice from a veterinarian about the appropriate diet for your dog.
END
Source:
'Health Management', Delta Society of Australia
'Vets say don't give a dog a bone this Pet Dental Health Month' press release, AVA
RSPCA Knowledgebase
Dr Becker