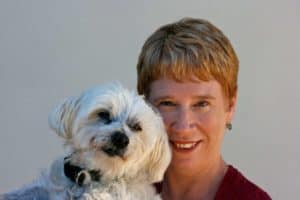 Cathy Beer is passionate about pet welfare.
Like many Australian households, Cathy grew up with pets in the home.  Cathy's first love was her grandparents' cat, Binky, who lived until the ripe old age of 22 years!  It was not until the adoption of older doggies from Doggie Rescue in 2008, that she became aware of the dark side to pet ownership in Australia – tens of thousands of cats and dogs are abandoned or surrendered to pounds and animal shelters every year in New South Wales. Cathy found this deeply disturbing, and decided to research into why this is happening.
After over 20 years as a professional marketer in the corporate world, Cathy explored new challenges and followed her passion for animal welfare.  In June 2012, Cathy wrote a paper in response to the NSW Companion Animal Task Force Discussion Paper on education programs for the wider community.
In 2013 Cathy created Pets4Life, an online resource centre for pet parents and those who are thinking of adding a cat or dog to the family.  The goal of Pets4Life is to reduce animal surrender.  She launched the 'Stop before you shop' campaign in December 2013. In 2014 Cathy was interviewed by Brisbane radio 4BC about the risks of online pet shopping.
Cathy is a voluntary member of: Willoughby Council's Companion Animals Committee, an Animal Welfare category member of University of Western Sydney (UWS) Animal Ethics Committee and a member of the Marketing & Fundraising Committee for the Foundation for the National Parks & Wildlife.
Cathy and her husband, John, have learned a lot about dog behaviour since their adoption of Rosie, Crunchie and Toby, and they're still learning!  Cathy has discovered that the more effort you put into your pets, the more joy you receive.

Print This Page